Wednesday, 2 July 2008
The shop is AWESOME
Along the citylink, there's this dessert aka ice-cream shop opposite 7-11. Their parfait ownzzzzz.
The taste is heavenly and very rich. =) Die Die Must Try......
Also today during the dance practice, I learnt the front part of Saikyou Pare Parade dance routine, still got more to go. Really hope that this dance group will stay on as a permanent group and not disband after cosfest. I really had lots of fun and made lots of friends through this group.
Then again, JCG might also be having dance sessions so I might drop by. Sigh, Wayne's like "you be the "instructor"".... Lolz, I cant really dance, just that I'm those type who would usually practise a lot in suitable environment and atmosphere. XO
Rights, got to go now. Tomorrow got 6 hours lab and a quiz. Need my Red Bull =)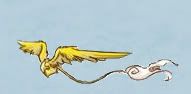 Existing the story...