Wednesday, 9 July 2008
It has been a long weekend for me. These few days were very busy yet fun.

Firstly Cosfest 08 was EPIC fun.

Day1
I wore my neko-jacket with a black long sleeves out which ironically is the one Wallance though was a costume. Didn't take much of photos but I enjoyed the dances we had that day. Sadly I had to leave early as my Grandmother was having her birthday celebration around the evening.

Day2
Arrived early, well very early.. around 10.30am. No one was there yet.. Lolzz I was like the only blur-dude walking around the area, so I decided to go to BK for my early lunch. Well after the meal, I met Ah Pek (SGCafe) and chat with him. Thanks to that, he managed to convince me to change into my Varia suit. Also before changing I met Fleur.deLis who upon realising that I'm doing Gola Mosca, sort of dragged me to her team as they had a Hibari cosplayer there.

Lucky me, cause the Chrome cosplayer in that team is awesome and she's from London. Sigh, if she would have done the summer white gown version, I swear she will be the perfect Chrome cosplayer.

Rights enough of prasing, I sort of waited for a whole 2 hours before Wayne doing Bel and Ping as Basil came and at that time, I managed to get my amour on, only left the mask and the gloves. After about 30minutes, Wei Lee cosing as Lancia, Kenny as 15 years Lambo, Ali, Kim, Fiona as Gokudera, Pei Fen and Jeannette came.At least, I can put down my baggages and get into gear. Me cosplaying as the ONLY Gola Mosca in Cosfest 08. Oli also came down as Haru. XD
Woots..

The whole day was fun, had a lot of photos taken, some group pics with the other KHR teams while others mostly taken with Lancia, Bel and 15 years Lambo.
The ending for Cosfest 08 was by far the most EPIC.
All the cosplayers went up the stage to do pure Caramelldansen, shortly after when the DJ repeated the song, my dance group and I did the Broken version which we practised for a long time. Its soooo EPIC and I can't believe that the cosplayers on our left(video right) tried to dance with us (we're at the center part of the stage)
we, the dance group were like OMG.... EPIC WINZ. Furthermore, yesterday, we realised that our video on youtube was linked to the Caramelldansen page in Wikipedia.
http://en.wikipedia.org/wiki/Caramelldansen
http://youtube.com/watch?v=jHE339Rcnb8&feature=related
http://youtube.com/watch?v=Ff4Shes7_Cw&feature=related
CARAMELLDANSEN SHALL RULE THE WORLD OF EPIC-NESS ~!!!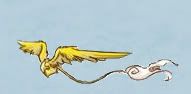 Existing the story...