Tuesday, 17 June 2008
Yesterday, I was high on durians and Gay-Bar XD
It started out a little negative as Wayne was uber-late as we were suppose to reach school early to do props. Luckly Dempster was there for a chat to kill time, and had lunch with Hafiz, my manga sensei. So I wasn't that pissed off either. I completed the basic for my Varia emblem so now is cutting out the shape and sewing on the cloth.
Rawr
Wayne redeemed himself by treating moi durians, which Ping Ping went to buy.. XD
So I was like high on Gay Bar, and when I opened the door leading out if the fire-exit lift, I saw Broken and was o.0.
What is that guy doing there, he has yet to graduate from secondary school??
But who cares... So in the end, me, broken and gerchi were like gay baring the whole night.
Lastly, to end it was a celebration for Froggy's birthday. Hafiz(JCG, Froggy's bf) was like acting oblivious about it. He plans to give a surprise to Froggy but it kinda backfired.
In the end, the problem was solved and everyone was happy.
Oh before I forget, the last night's bread at Cafe Cartel was awesome. It's so warm that the butter just melts and glitters. The previous time were like cold bread with hard butter.
JCG go Cartel for cakes, I go Cartel for BREAD. XD
BREAD for the WIN~!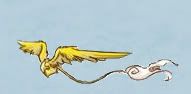 Existing the story...