Sunday, 29 June 2008
Today I felt quite happy and I swear, its the most productive day in my entire month.
I completed my Mosca Mask, the only problem now is that my tubes were like spoiling now. The paint cant seems to grip onto the plastic surface of one tube, another one is like becoming soft and weak at the base. Most probably due to the solvent of the spray paint. Most likely, I'll bring my sand paper tomorrow and sand my spare tubes before spraying.
None the less, I completed my Mosca Maks~! XD
My Mammon is also done, except the coat since the antique sewing machine in my house cant complete the job. Tomorrow, I'll be bring the plushie to school to show them. XP
Just now, I completed my share of research for my BPT and cGMP projects. Rawrs...
Later before I sleep, I plan to modify my Neko jacket, going to add a lightweight chain onto it. Idea taken from the "Devil" jacket in Atsuki. Frankly, it was the one which first tempted me to buy a jacket from Atsuki back then.
Ja Matta =)
Oyashuminasai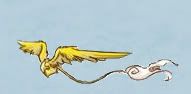 Existing the story...