Friday, 13 June 2008
These few days were very busy for me.
One is that I have to rush my cosplay props and I'm seriously paranoid now as I feel that I can't make them in time for Cosfest, or that they would turn out FUgly..... T_T
Secondly is the training for my caramelldansen routine. I pretty much know the whole routine by heart, making minor mistakes at most. Also I managed to learn the Danjyo routine, done by this Phantom guy in Nico Nico, from Shogun. Lastly is the infamous GayBar dance. =) It is epic win XD. Lots of hip movement, much like Caramelldansen and Danjyo.
Lastly is my drawing, I did a copy practice of Yuyuko and it turned out fugly... Need to practise more.
Alot of internal issues going on within JCG and suddenly I feel that it wasn't as fun as it used to be when I was the one and only SaiKang General under my one and only SaiKang Warlord.
Oh before I forgot, admist the complains I've typed, there are some fun parts. Like, I'm pretty sure I'll enjoy my day in Cosfest due to the fun I have with my dance group, like I got a new Touhou game - Scarlet Weather Rhapsody, another upgraded and complex version of Immaterial & Missing Powers, and I "zheng"-ed my Legendry Ocean deck by splicing with imba gay frogs.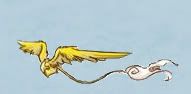 Existing the story...