Sunday, 22 June 2008
Rawr!!!!!

Having trouble with my mask for Mosca...
Now trying out on 100% cotton cloth. Hope it turns out well.

The emblem which my mum help me make is so-so, not really that nice but can still make it if i buy fabric markers and outline the details.

My mammo also not done yet.... T.T Miscalculated, my aunt went to malaysia and just got back this morning.

Really hope my costume will turn out good, I don't wish for epic win type, just normal passable Gola Mosca and not a epic fail aka Cosfuck type.
School starting in 11 hours time, can't wait to surprise my classmates with my Neko jacket. XP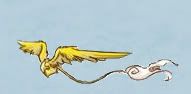 Existing the story...