Sunday, 22 June 2008
Basically, this is a 3D side scrolling game. Imagine maplestory and devil may cry spliced together.

This game resembles Touhou, a popular STG game series as the bosses usually do screen wide AOEs. It also gives off a Final Fantasy feeling as the game has cool cinematic cutscenes and the music pieces highly complement the game play.


On first glance this game may look simple as it's just a hack and slash game but the tricky part is the contols.
This game require alot of control-handling as during the mid-boss or boss fights, your character is practically flying in the air and you have to position yourself near the opponent in order to land a strike. If you're praying that the bosses are stationary, sorry wrong prayer. The bosses are very nimble and are hard to get close to. Some of the bosses even deal you damage when you are too near.

However the easy part of this game is that every time you strike an opponent, light orbs will float around and by double tapping the special button, those orbs will trun into swords and attack the opponent.
This is particularly useful in raking up your combos and landing massive damage on bosses.

The default controls are very confusing and hard to use so I had to change them to:
G - Melee slash
H - Double tap for special
J - Throw daggers
K - Double tap for air jump, tap to recover when hit and have faster movement during that recovery period
T - unknown
Y - unknown
U - unknown
I - unknown
WSAD - standard left-hand direction controls


Here's the link for the game
http://www.doujinstyle.com/doujinsoft/crescentpalemist.php

Enjoy =)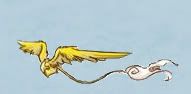 Existing the story...