Sunday, 11 May 2008
Finally the chaotic week is gone...
The bazzar was fun but very tiring and had a lot of problems....
Location has became a new taboo word for me...
Recently I found another touhou fansite featuring tonnes of touhou fan art.
I finally managed to do a nice carmelldansen chorus. Yatta XD Also I cleared Touhou - Perfect Cherry Blossom normal stage 5 but ran out of lives on stage 6.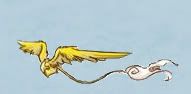 Existing the story...