Wednesday, 9 April 2008
Today's fun XD
I attended a caramelldansen dance session in My Playground, suntec, held by my fellow forumers from Sgcafe.

The overall choreo was cooked up by Broken and Shogun (I think) while the rest of us "learn" from them. Met new people and made new friends. Oh, they even came-up with the steps for the "Dan-cho" song.

The dance routine is easy, just that the finer details need to be taken note of, like during the chorus, must be less stiff and more "epic"

Planning the change the backgraound songs to Caramelldansen and Dan-cho.
*edit - I change to esnips as immem failed me this time round.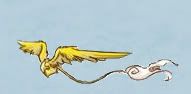 Existing the story...