Tuesday, 15 April 2008
Sigh... Holidays ending soon...
I remembered my holidays started with grinding at HOLIC online. Though now I'm taking a break from the heavy grinding of MMORPGs, someday when I feel the calling I would go back to playing MMORPGs. XD
Then from the second or third week, the was a sudden surge of playing yugioh during the weekly drawing session. Talk about drawing... XP
Oh and recently I joined this Caramelldansen group for cosfest and attended the practices. It was fun and I swear, if I'm thickskinned enough, doing the routine 3 times a week can actually slim my fats away...
Actually I wanted to post the epic picture of AZ but its too blur and no impact... Ping!! Send me the photoshopped version!!!
New animes for this holiday season, staring my fav Code Geass R2. Lelouch finally regained his memories and geass!!! Pizza Hut supports the rebellion against the Holy Empire of Britianna...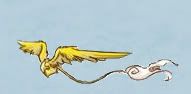 Existing the story...