Wednesday, 2 April 2008
Sigh... this few days are terrible... My acne has taken the worst turn possible. There's a nodule or rather pimple in common term growing in my ear. *note - pimples are acne.
Every morning, the pus kept oozing out, and my ear feels sore, swollen and sticky..... I'm going to see the doctor tomorrow first thing in the morning.
Orangey morning sky at Chua Chu Kang
The folloing are the pics of my most recent addition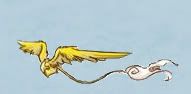 Existing the story...