Thursday, 3 April 2008
Rights, it official. I'm having otitis externa.
The medications given include a ear drop which I will have to keep my head tilted towards the left for whole 15mins...... Now my neck is aching from it...
Then hotmail failed me but not allowing me to attach files to email....
I cant send my email to Mr Lee, sales manager of Pan-in-a-box...
SIANZZZZ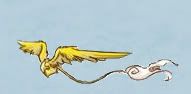 Existing the story...