Monday, 28 April 2008
Life's busy... So busy... Its busy for me....
Yes, life is beautiful yet very busy. If not I wouldn't be blogging as such a late hour.
Got alot to do within so little time... cGMP sounds very tough... 100% PBL...
The bazzar ain't going well either...
The job of a QM is hard....
On the other hand, today Terris baked some rock cookies that is uber hard and it killed my jaws. Even till now, my jaw muscles are aching from the intense stress when chewing the cookie. He used wholemeal flour which he didn't know is salty. So he added half a teaspoon of salt... Salt and chocolate doesn't complement each other.
All these talk on food made me want to learn how to make panna cotta.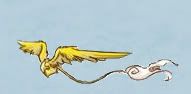 Existing the story...