Friday, 18 April 2008
Burp!!

Very full, just had a teabreak from 3-6pm at some 4.5 star hotel near Orchard Belt. Its the same as Sakae Sushi's buffet but this time its with high-tea food like cakes, pastries, cookies. My friend had a complementry buffet voucher so we went ahead to have our lun-ner there. XD
The panna cotta is awesome. =P

But now, i feel sick on the stomach... had too much food.
Tonight have to turn in early as tomorrow, I'll be attending the prerelease of the new MTG booster set, ShadowMoor.
Holidays ending really soon. Only left with 2 more days. T.T
But thanks to ReinHartX, Broken and TimCammpy from SGCafe, I'm currently hooked onto playing Touhou. Its this classic series of doujin games which is like those airplane games but with insane bullet patterns and soon the whole screen is filled ith those bullets. You will have to manuver the character in between those bullets and I swear it's never a child's play when its Touhou.
The verses version of this series is also cool. XD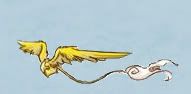 Existing the story...