Sunday, 30 March 2008
Yawnz....
Very tired today... I was roughly woken up today at 4am.. -.-
Reason, it's Qing Ming festive so I'll have to follow my family to Chua Chu Kang to give offerings to my late father.
Got home at 9am, after a quick shower, I recharged my batteries for 2 hours before having lunch and changing into outing clothes as I previously had an appointment with Wayne at Pan-In-A-Box, Chinatown Point.
While killing time in the store, we discussed about our varia cosplay, the materials needed, whether to tailor our costume through the shop's tailor, etc...
So after the whole discussion, I dragged my sleepy body to Chinatown Square Centre for the weekend bazzar and got myself a Nagato gashapon figurine. Its the "Alice-in-wonderland" version and the price is only $5. XD
Ok, it will not take too long nor do you need to be very smart to know that I'm a sucker for Nagato Yuki. As for the figurine, I'll post the pics someday soon.
Oh, news to all, Suzumiya Haruhi season 2 will be out anytime soon in April. Yatta~!
More Yuki zai-ness, ya-le-ya-le from Kyon and madness from Haruhi... XD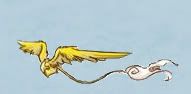 Existing the story...