Thursday, 13 March 2008
Woots~!
I've just watched Gundam 00 episode 22. Trans-Am system rocks. The creator of Celestial Being gave all the 4 orginal, namely Exia, Dynames, Kyrois and Virtue/Nadleeh, the ability to use 100% of their GN Drives, which is the godly Trans-Am system. Imagine gundams doing Bleach's shinpo(Quick/Flash steps). Uber COOLNESS~!

I also rushed Rosario+Vampire manga to the latest chapter. The storyline is above average, I guess its selling point would be the youkai girls. Being a harem/shonen, the male lead is still the typical CMI type until something happened and he obtained strong power while struggling to control it. The latter fact resembles much like Ichigo from Bleach.

Oh, not to mentioned I also completed the Clannad movie. The story follows the normal or sad ending of the graphic novel game.



*You may choose to scroll down real fast to the next paragraph to avoid spoilage
Spoliers start=====

Tomoya and Nagisa got married and had a baby named Ushio. Sadly Nagisa's body is weak to start out and could not handle the stress of childbrith. Thus drew her last breath shortly after Ushio's birth. Tomoya went into depression while the rest of his friends or anyone he know tried their best to bring him back to his old self.
Spoliers end====





















Here's the link to the movie

http://www.crunchyroll.com/series-11922/Clannad-Movie.html

Like all Key's works, they never fail to make me shed a tear or two. I guess I'm now a fan of Key and their top quality games, graphic novels, animes, movies alike.
Santa~! I know it's still early, but I want a Key game for christmas. Ero-game or not who cares. The storylines weaved by Key are the best.
Lastly, I go back my sem results. This is the most unexpected results I've ever got.
For PMic and BPharm, I thought I would get C+, instead I got B. Retail, I maintained at B also.
For PIA, I got B when I thought I would get a B+. The most shocking one is IPT, I'm expecting to get at least a B+ but I got C+....WTH!!! It totally caught me off-guard.
The only expected thing from this unexpected results is that I know my GPA will fall. Luckly it's not as severe as last sem, only a 0.04 drop from 3.04 to 3...
Sianzzzzzzz....................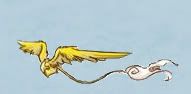 Existing the story...