Saturday, 22 March 2008
These few days had been tiring for me as I had to drag myself out of bed near noontime, bathe, rush my brea-unch before going to Expo for my mascot job. Made some new friends there but didnt get to swap numbers.
While browsing the web for new GE fan submission, I chanced upon a fan-parody ad of Mocca. XD
Selling my house - GE style, by Kelvinator.
The following two pics are my current favorite anime - Clannad.
Lucky star X Clannad and official art (I think) of Tomoya, Nagisa and their daughter Ushio
Also, like the mocca ad parody case, I also chanced upon these two gem art pieces. The fans of Suzumiya Haruhi no Yuutsu took the iniative to create a fan-made SHnY series based on Gender switching.
Introducing Kyon, ops I mean Kyonko. She's darn moe!!!
And Nagato Yuuki, suai XD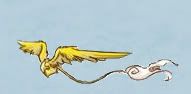 Existing the story...