Tuesday, 11 March 2008
Tadaii ma~!
It means "I'm home" in japanese.
The Air background is getting old, so I changed it into the Dango Family. XD
Both animes are from Key, though I'm not sure are both titles ero or not, I would still try to get them in the future. Clannad is Teh best anime currently.
Tomoya X Nagisa For The Win~!
Two days ago, I went to Meritus Mandarin Hotel for my mascot job. Guess what, it's Wyeth again. Meaning I would be using that smelly old mousing-looking bear with wings to play with kids. Although there are about seven kids there, the job is actually very tiring. No more aimless wandering, instead I have to play with kids and that suit is stuffy. The pay on the other hand is juicy. $60/hour, what more can I ask for.
Something freaky happened yesterday (5 hours ago). During my JCG "caking" at tampines Cafe Cartel, Terria(not sure is it spelled this way) brought her sisters along and one of them totally freaked me out. T.T
Its like she keeps pulling and meddling with my "tail" and it became so extreme that she actually attempted to cut it....... *Shivers
That really creeped me out... * I can almost hear you people lmao(Laughing My A%% Off) Be in my shoes and you will know how it feels like. sfx-puff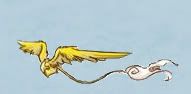 Existing the story...