Friday, 28 March 2008
The past few days had definitely placed a series of terrible stress on my stomach.
On wednesday, Wei Lee, Lucas, Wayne, Ping Ping, Oli, Furd (sry for spelling error XP) and me went to Sakae Sushi in CS for our Lun-ner buffet. Since we were shown to a 6-seater near the start of the sushi belt, we totally spam the sushi like there's no tomorrow. I ate a total of 17 plates not including the final two plates of watermelon and mochi ice-cream. XD
But..But..But... That was my limit, and the the joker Wayne over-ordered that he cant finish half a corokke, one salmon sushi and one unagi sushi. Tsk..Tsk.. *No offence XP
Just when I though my stomach can rest. The next day, thursday, Lucas, An Zhen, Wei Lee, Furd and Oli's friend went to Oli's house for a day of mahjong session. For lunch, we ate the minced pork noodles what was featured in Channel U. The noodles are hand-made, and the noodles are soup-based. The chef even added fried, finely-chopped garlic into the soup, giving it the distinct taste. Zai! Michelle and Jeanette joined us after lunch.
The mahjong session was draining but fun. I learnt a lot of tactics and rules during the session, thanks to Oli's parents. However, to my foley, I can get a 5 tai Pong-Pong Hu but I didnt know and threw away one of my triples. T.T
Oli!!! Playing mahjong with your mother is alright. With your father being the player before me is STRESSFUL!! >.<
We had Botak Jones for dinner and the fish and chips are great. Worth the $6.50.
Oh, not to mention that I bought two cds from cash converters for $2 each, namely Moment by SPEED and Ark by L'Arc~en~Ciel.
Today or rather yesterday, my mum and sis dragged me to AMK hub to change my mobile plan. Plan... not phone... I maybe changing my mobile number to the newly aquired one in the new future. We ate in this Hong Kong styled cafe near New York New York for dinner. The french toast is nice. Thick yet soft in the inside and crispy outside. On the other hand, the baked rice with beef is a joke. Its just black peppered stir-fry beef with onions, green and red peppers, topped with mozzarelle cheeze. Ok, maybe I can overlook since its Hong Kong styled and the beef is tender and chewy, not hard like those well-done beef steak.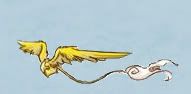 Existing the story...