Tuesday, 18 March 2008
A lot of things had happened over the weekend.
First up, Congratz to Team Cypher Craze in representing TP and got 4th in the FUYO-Interschool BBoy competition.
The competition was held in SMU on the Saturday night where 16 teams battle it out for the prize money and the honour. It's very intense and the mood was like in a club except minus the drinks and clubbing music, add break beats, DJs and breakdance. Set in knockout format, each team will battle each other, 6 sets of moves each and the winner will advance. The most memorial moves that night was Cypher Craze's team routine, Aaron's cricket with a twist, Erin's chair swipe and one BBoy from Random Rockers who did flair and hang in a flag manner.
Nothing beats the grand finale of the night when the event sponsor Michelle was proposed by her BF. Such drama is rarely seen in public, let alone be the witness of the proposal. Bless the couple for eternity. XD
On sunday, I follow my ex-crew to AMK to have a celebration at BotakJones. They serve amercian style food of american portions. Worth of money. The portions are so huge and they really dropped the bomb when the waitress told us that "due to food wastage, we decided to decrease the amount of fries give" yet the fries on our plates are like mountains.
After lunch at BotakJones, I rushed down to Vivo to meet Chris, Ping, Wayne for dinner at the Kopitam there and also to watch the cosplay event there. Being a minor event, most of the cosplay there are repeats except for the Team Fortress 2 and the Pokemon Adventure cosplays.
Then came Wei Lee, shortly after Finoa. After the event, Fiona went with her friends and we went item hunting for our cosfest costumes in Diaso, and other shops such as the DIY store.
No pics taken XP
Oh lastly I changed the blogskin as the Dango Family kicked me out T.T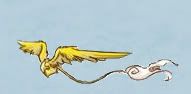 Existing the story...