Friday, 14 March 2008
Just came back from watching Evangelion: 1.0 YOU ARE (NOT) ALONE movie. The show is definitely worth the money and it totally lived up to its name Rebuild of Evangelion. The story is still the epic 1995 story but there are a lot of scenes which are re-animated such as the heavy usage of CG graphics and stuffs. Furthermore this is just the first installment of a four part movie series.
Sadly, some minor problems I encountered are that initally I booked my ticket through my friend as he had ordered too much. However due to some mishandling, the whole order was canceled. T.T So I've got no choice but book online which incurred an additional of $5 as I can't get the student rate discount.
But, I still got a poster myself, thanks to Chia Fong. She gave me hers. Honto ni Arigatou Gozaimasu. I'm not sure does she want the special discount for the limited ed. DVD when it's release. If she doesn't want, I'll use it to buy the DVD box. XD This kind of shows must keep. XP
Below is the pic of the poster.
Also, like all anime, there will be preview on the next coming episode. After the credits, the audience heard the seiyuus spoke for like one or half a pronunciation and the preview was cut off. WHY!!!!!!!!!
The whole theater was like cursing with Wa lao, Booooouu, Ooooooeee & F**K Y**.
Ok it was not that extreme but seriously, the preview was.... Arggggg!
Overall, this movie still rocks, even to non-evangelion fans like me. XD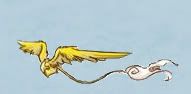 Existing the story...