Thursday, 20 March 2008
Found another ZAI game XD
Suzumiya Haruhi no Chourantou
http://www.doujinstyle.com/doujinsoft/suzumiyaharuhinochourantou.php
&
Suzumiya Haruhi no Gekitou
http://www.doujinstyle.com/doujinsoft/suzumiyaharuhinogekitou.php
Both games are identical as the later is the sequal of the first one.
Its a 2v2 tag game where characters from Suzumiya Haruhi no Yuutsu battle each other in cute chibi form XD. Much like the PS2 game "under the skin", characters get to pick up weapons and power-up on the map. Each character has their own combos and specials. Furthermore, there's this rainbow ball power-up that allow the character to transform into their alternate costume, aka cosplay ball. At that point of time, though the cosplay is of limited time, the special also change. So it's like 1 character having 4 specials (50% and 100% SOS bar for the normal one , another 2 type for the cosplay one.)
Oh, one thing I know is that when playing at normal mode, MUST BLOCK LIKE SIAO. XP
The sad thing is that I have yet to fully know the controls and combo inputs so currently, I getting trashed by the Com. T.T
Here's a blogger who made a vid of the game and also provide more explaination in the game itself.
http://graffit.blogspot.com/2007/08/suzumiya-haruhi-no-chourantou.html
Go ahead, download it and have fun XD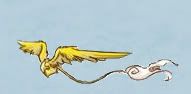 Existing the story...