Tuesday, 19 February 2008
A quick blogging before I rush my PIA, it's open-book term test but still must study.
Time really flies, at one point, I was just a nerdy student, freshly graduated from HIHS. Now, two years had gone by, and I've shed that nerdiness. It's like erm... going to be the end of my year 2 sem 2 in TP. My friends from HIHS, most of them are either waiting for their A level results or in NS.
*Oh, here I go again, having sentimental feeling. Hey, I am a guy, eternally trapped in my past.
OK, change of topic....
I realised that for my character in Holic, it's actually 1 character with 5 jobs and can alternate between 2 chosen jobs at a time. Also, by pushing a hotkey, I can revert my character into the non-battle stance. XD
Now, my character is a level 22 monk, level 21 rouge, level 20 mage, level 16 warrior and level 1 priest. I'll train priest last as I aim to get my warrior to level 20, store the equips of warrior and mage in my storage character. I will concentrate on monk, rouge and priest since monk got a auto-regen skill which allow me to grind without resting, the attack speed of my rouge is so fast that I usually OHK the mobs. As for priest, the healing and buffing factors can let me grind with out much rest.
Do I still like GE? Yes, I'm still into GE but not too much of playing it. The usage of cash-shop premium items kind of push me away from the game. I would still lurk around the forums to chat about PVP tactics.
Like DOTA, I sometimes get bored over constant killing and death, and the irritating provoke flames that online players would throw at each other. It kind of ruin the fun when people go around, KS-ing and "shouting" noob-shit.... But I would still update myself on the new heros and items.
That's why I'm a MMORPG-addict. Other people job-hop/ doctor-hop. For me, I beta test-hop. XP
Aldios peeps, I'm off to rush PIA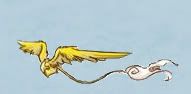 Existing the story...