Friday, 29 February 2008
Just finished my last paper this morning. XD
Yes~ar!
Holidays' here. Then again, I'll confirm complain about the vacations being super boring since I only have 4 days of mascot to do, occassionally going out to source for my cosplay materials, making them...
Other than these I'll spend the rest of the days slacking and grinding in MMO, which I may become bored of... Oh, not to mention about the weekly drawing sessions.
Sigh.... Can't life be a little more exciting?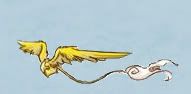 Existing the story...