Sunday, 10 February 2008
A bit late but
Happy Chinese New Year. XD
I've been busy these few days, all the spring cleaning, visitings, gaming, eating, drinking.
*Alas, the reasons why I never slim down. Hack care! XP
This year is the highly-hoped 5 days new year holidays. This type of arrangement only come once in a decade I presume, as the last time it came was during my lower primary school days.
Looking at the calendar, starting tomorrow, I only have a week to prepare for my IPT and PIA term tests, two weeks for my main exam comprising of PMIC, BPHARM & RETAIL. Darn. My projects ain't going well either, except for retail project......
If this go on, I may need to take MAOIs should I develop clinical depression.... LOL joking.
Mabinogi dropped me out of the close beta testing T.T
So, now I switched to playing Holic Online. It's like a fuse of Fiesta graphics and RO2 job switching. I now have a level 14 rouge/ level 9 monk, a level 1 mage/preist-to-be and a level 1 warrior/monk-to-be.
The gameplay is nice, I like the idea of switching between two chosen jobs, save me the time to recreate new characters. The only two things I don't like about the game is that firstly, like MapleStory, items in the storage cannot be shared amoung characters. I have to borrow my sister's email account to make a new "middle-man" to facilitate transections of items between each of my characters. Secondly, when the characters unsheath their weapons, their facial expression change to the ready-to-fight type. Good in a way, more realistic but that expression will never change back to the normal type. It spoils and totally wasted the time I took to create the characters' outer appearences at the start of the game.
Overall, this game is worth the try and it is interesting to see a rouge using rapier. XP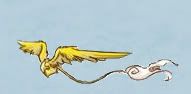 Existing the story...