Sunday, 24 February 2008
3 more papers to go. Yes-ar~!
For the past two days, I've been grinding in Holic not for my main character's level, rather it's for my pet eagle.
There's an event from friday 22 feb to 12 march, the admins are giving each player a new pet, Twilight Eagle. Players can keep them if by 12 march, the eagles' level are at least 30. Furthermore, it my eagle's level is at least 35, it will be upgraded into Solar Eagle and I get to keep it. XD
Just two days into the event, my Twilight Eagle is level 26. 9 more levels to go..XP
Haven't study much on BPharm. XO
FTTP~!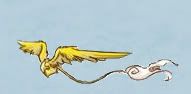 Existing the story...