Saturday, 26 January 2008
Special Short Coverage - Start Of the Year cosplay event @ NP, a.k.a. SOY08
Today, at NP LT26, for the first time ever, SOY. The event was great, new cosplayers, new costumes, new merchandises.
Like other mini cosplay events, there were many repeats like Trinity Blood's Sister Kaya from EOY07, Chibi Nel, Bleach from Cosfest07, Faust, Guilty Gear from EOY07 and Xanxus, Hitman Reborn! from EOY07.
There are also new cosplays such as Akito(cute one) in wedding dress version, Chibi Kon, FFIV team who took the place of 1st runner-up for team cosplay and Ryuuk from Deathnote.
Sadly, I took the wrong bus and arrived at the venue 15 minutes before the prize presentation, and had missed the bulk of the event. Furthermore, I didn't have a camera with me, so no pictures to share. T.T
However, I did managed to slack around and chat with my SGCafe friends, especially Broken (Faust), Kon and ReinHartX. Fiona from JCG was also cosplaying, though it was her who spotted me first. >.<
Seeing all these wonderful costumes sparked me to work hard for my own costume for Cosfest08. This time, I promise, I will not cosfuck again. The costume for EOY07 was a failure... It was too ambitious for a first time.
This time round, I'll make sure I do my ends of the strings.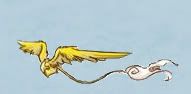 Existing the story...