Tuesday, 1 January 2008
1st post of the year...
Again, I 'll start of with an overview of last year's major things.
Firstly, I quitted Theory-G breakdance crew as I'm nothing but a burden to the crew. Hindering their progress and limiting their routines. But I felt no regret, I was half-hearted in the first place. Now, being just an ex-member, a hated one maybe, I'm more relax when I happen to meet them. I'm still able to converse with Erin, Dudefreak, WTF and Ivan in school though most of the time is random Hi/Bye and crap. If I meet Android, D.Munky and Ervin on the streets, I can still crap with them. For the rest of the crew, I'm not too sure as we're not too familiar with each other. There's one person I must really thank him. That is Peter, TG manager. His words and encouragements are the ones that kept Theory-G bonded.
The time I spent in TG had an impact on me, regardless good or bad. For one thing, I can still say that whenever I'm waiting for someone/something, I would toprock/practice the arm wave and chest popping, not caring about what others think. Thickskin, is one thing that I learnt there.
Secondly, JCG related events. The monday drawing sessions are like relaxing sessions now, we go there to curb our monday blues and people bring laptops, yugioh and books there to relax. The committe meetings are a dread as most of them are to address issues and mistakes that the current committe made. The halloween event was good, I was a shackled undead corpse with blood-stained chain hanging out of my left eye socket. CCN day cosplay was fun too, but I crewed up the costume. Though the Beach party@Sentosa 's a total failure, we had lots of fun that day. As for my future position in the main com next academic year, I still remeber that shocked I got when Wei Lee announced, my name for the position of the Quarter-Master. 0.o , I'm like holy crap! I've got no idea on the duties and responsibilities of the QM.
For the Hare Hare Yukai dance sessions, we managed to mastered the whole dance in a month. Though it's just a three minutes dance, we have lots of fun and I enjoyed organising these sessions a lot.
Shot of the last sunrise of 2007.
Yesterday, I was insane..... I took advantage of my brother's soon to expire(Today, 1st Jan 08) child EZ-Link card and took the MRT from paris ris to Juring East. Travelling started at 4pm
Shots of the EW line train floor...... XP
Having arrivied at Jurong East, I changed train to Dhoby Ghaut.

From EW line to NS line......

Shot of the darkening sky along Yew Tee.....
When I reached Dhoby Ghaut it was 6pm.

At last, NEL to home sweet home. XD
Total ride is $2.45. Suppose to be only $0.45 but I "overstayed" so there's a penalty of $2. But nonetheless, I still managed to spend just $2.45 to travel the whole Singapore. XD
Happy New Year to all~! XP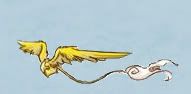 Existing the story...