Tuesday, 22 January 2008
Recently, a lot of things had happened.
Due to some cheekyness of my emo-side, I some how found myself at cold war with my 3th aunt. But...hack care! Who cares... For one, I hate being restrained by warpped and corrupted "respect"
Thanks to Ester from my care group, I am currently hunting english pop songs of the late 90s, from bands like Westlife, Backstreet Boys, A1, Blue, O town, 98 Degrees, etc.
Sad to say, I still like late 90s pop. Those are the songs that accompanied me through my childhood and teens.
Load's getting heavier by the minute. Must hold-on.
So I believe.
Beneath that graceful flight of her wings,
He raised his arm and gently caress her smooth face.
So I found, this crystal of theirs,
Formed through True Tears of two.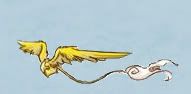 Existing the story...