Saturday, 12 January 2008
Phew! *Catching some breath
Pardon me for being MIA since the first day of 2008. All my projects are giving me no life....
Anyway, just want to share some of the wacky moments that happened during the past 6 days.
During PIA lecture two days ago, Siti, Joyce and Eugene from Rac's care group were kind of interested how long my "tail" was... In the end, Siti braided it... XD
Next is that during the same lecture, I adjusted the chairtable so that I can lean on it. The contraption did not fail me for the last few times but the screws came off this time round. It was so embarrassing.... Luckly the lecturer, Dr Tien Feng did not make any fuss. XP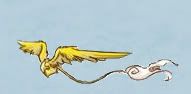 Existing the story...