Sunday, 30 December 2007
School reopening soon...
I'll need to restart my engine soon.
Anyways, about the cosplay for cosfest, my team might be doing "The varia" from Hitman Reborn!
Another thing is that I just created another yugioh deck. The mechanic is of courtesy and inspired by Tan Qi Han, my secondary schoolmate.
As for my new year resolution, I wish that my wish will be granted.
Recently, I managed to finish watching ef~a tale of memories. Chihiro is moe!!! This anime series is short but the story and the character developement is impressive. Viewers are taken on a emotion rollercoster ride from the start of episode 1 all the way to episode 12.
Personally I like Chihiro's story. It's very touching and it topped my chart for the most tear-jerking anime.
RenjiXChihiro FTW!!!!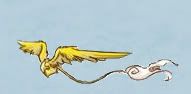 Existing the story...