Saturday, 1 December 2007
Just caught up with the latest eps of Clannad.
This particluar splice of life anime, so far is the best, beating Dragonaut and Gundam 00 by a margin.
Ep 9 features a sad opening and middle section. One can actually start to feel sorrow for one of the character. But it soon turned the mood during the final 10 minutes. It was so touching that my lacrimal glands are activated.
Clannad is definate one of the must-watch anime of this semester.
Dai Dango Kazoku - Big Dango Family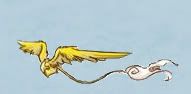 Existing the story...