Sunday, 16 December 2007
EOY was fun, uber cool.
Congratz to Team Teh Bling and Orochi for their limelight stealing Trinity Blood cosplay.
Special mention - Ouendan group for their loyal dance performance for the game itself, Gundam Dynames cosplayer, Drummer(forget his name, from NANA) cosplayer and the super cute Honey Senpai from Ouran.
It was quite tiring though as my footwear doesn't come with padding and my costume is super hot. In the end, I could only take up to four pics, the rest were taken from the forums. XD
Bad Hair day for me yesterday, my wig was screwed as always. The funny thing is that I never forget what I need to bring for my costume but when I comes to the set of clothes to change after the event, I forgot to bring my belt >< .
Anyway, here's something I may decide upon. Cosplaying is fun. Taking photos of cosplays are even more fun.
Next year, for Cosfest, I will make sure that my costume has pockets and the top is long so that I can conceal my camera, bring it out when needed.
Or, I shall give myself one more chance to cosplay and take photos, then compare the degree of fun. XD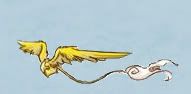 Existing the story...