Tuesday, 6 November 2007
Weeeeeeeh!
Volleyball and tennis beside TP Library.
Today, I met and befriend another Zen. Cool!
Now, we have two Zens
My comp seems to hate me. T_T
It was the second time when my recycle bin mysteriously disappered from the face of my desktop. Neither can I use the search function to locate it.
There's only one way now, and it is to RF my comp....
Sigh.........
Backing up my files now.................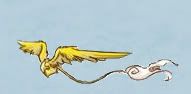 Existing the story...