Wednesday, 21 November 2007
Twisted and warped, he slashed the Magus who had defiled his very soul.
Covered in crimson fluid of sin, he then staggered out of the hell-fire, only to be shot by the one he hold most dear.
He cursed the Gods who fabricated his fate, he cursed his destiny. Ultimately, he cursed himself for being weak.
With his last breath of life, he swear that he will protect her and watch over her.
Void-black wings radiate from him, engulfing everything in the warth of gods.
The only surivior was her and on her chest, the stigma glows.
The proof of the fallen angel's love for her, protecting her for eternity.
Yet the scene was too hard to bear, dealing the tarumatic blow to her.
Memories flew away like shards of broken crystals.
She continues to live on as her true vampirc body never age.
However, unknown to her, the pair of void-black wings will always shield her from harm and unhappiness.
For eternal, as a proof of their love.
Feeling kind of wanting to write up some story, only to cook up the ending/beginning(depending on how to read it), hope you like it. Enjoy. XD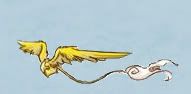 Existing the story...