Friday, 2 November 2007
Rights, 2nd day of November. School has been a normal day today, with the exception that promotion for the Beach Party is still underway.
Anyways, my tag board was just taken out from the oven. It's flaming hot.
The dessert that I'm making require some cooling before adding the garnishing. So people, let us all wait for them to cool down.
Of course I would much perfer to ignore the heat and start eating the dessert now. After all, custard puddings taste best when their just fresh from the oven. Top them up with maple syrup and they're all ready.
The verdict has been announced.
The tribe has spoken.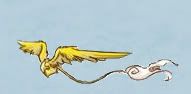 Existing the story...