Sunday, 18 November 2007
A lot of things happened this week.
I've mastered the art of drawing/sketching while sleeping. Below are my best art pieces. XD


Yesterday was JCG's beach party.
It's was so sunny yet today is thunderstorm..... T_T
I managed to captured a shot of the sunset at Siloso Beach just before we took the train out of Sentosa.
It will be a long time before I set foot on that money eating island again.
Dinner last night was in Kopitam of VIVO. I'm surprised that can can actually taste heaven with just $3.70. The fish slice steamboat was great. Best of all, all of the AM subcomm gang-tease Johan until he summit to our teasing. LOL XP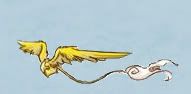 Existing the story...