Sunday, 25 November 2007
Good Night!
While sorting out my files in my hard-drive, I just found out I have some interesting links to youtube videos.
http://www.youtube.com/watch?v=Vh_peXHCX04
The internet is for pr0n (Ouran version)
http://www.youtube.com/watch?v=P-SXg-15IMc
Code Geass unofficial(fake) game
http://www.youtube.com/watch?v=vD4OnHCRd_4
Titanic 2
Watch the videos before continuing reading.
The internet is for P0RN! XD
It's actually a spoof using the song and World of Warcraft character classes. An Ouran fan managed to compose a promising video using different cutsences.
I take my hat off for the Code Geass fan-made video, highly resembles a Dating-Sim/Harem game. Sadly Code Geass is far more dark, almost to the point of being like DeathNote.
The last video is by far the most convincing one. I almost got tricked if not for the scenes of Leonardo DiCaprio wearing the flowery blue beach shirt from Romeo+Juliet and various parts from Catch Me If You Can.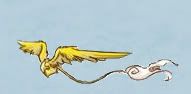 Existing the story...