Sunday, 11 November 2007
Ahhhh.....
It has been a long time since I last blogged. It was a busy week for me as I have to run to my CCA event booth to help out.
Due to some recent changes that had happened, I'm currently adjusting to my current lifestyle. I managed to get myself to play the game that I thought I had grown out of, Yugioh.
There were some moment of fury as my EOY costume had some fatal errors but I can't go back to the tailor to fix it. Knowing that the design is tricky, the tailor was given 5 months to do it. However, I wonder why she had to wait till the last few days to rush it. I heard that she even had a vocal fight with her colleague for forgetting to tailor the design on the sleeves.
I may not have the right to complain as they're doing this for me, FOC. As tailors for a colthing manufacturer, I understand that they have to meet their monthly stocks quota. But, 5 months......... 5 Months.......
Sigh........
Lesson learnt - Choose a simpler character to cosplay. Hire a tailor instead of relying on relatives' employees as money buys quality.
Shot of my tail. Jeanette was curious about how the tail would look like if she add on an orchid(Wei Lee's orchid, from TP Green house).
The poster art for the beach party event booth, done by the designers.
The following will be the shots of the figurines which I mentioned in earlier posts.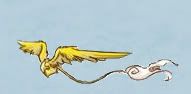 Existing the story...