Wednesday, 10 October 2007
Weeeeeeeeeee!
I got my Fav Air Gear figurine form a $2 gachapon.
AGITO - Fang King of the Bloody Road. XD
Sadly pics are of low quality as I use my handphone cam, 1.3 mega pixel oldie type.
The blue rubber strip he's holding on his right(our left) is damn hard to hook into his hand. The grip is not so good and the rubbler kept unwinding back, away from the hand. The painting is nicely done though, ups for a gachapon toy.
Well can't expect much from a $2 firgurine but overall, it's worth the money. XD
Enjoy!!!!
Yes people, in the background is my personal comp which I've been trying so hard to hide the solid fact that I own it.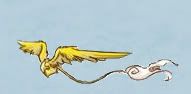 Existing the story...