Wednesday, 24 October 2007
Third day of school, I'm already having this butterfly feeling of wanting to time-travel to the future two weeks holidays during the December term break.
I still can't get used to school again.
Last vacation was so much fun that I really want to just discard the possibilities of my future and return back to one month before.
I wanna return to the days which I spent with my friends, when I casually travel to TP and up to IT5-5/6-XX and crap with them, the days when I wander aimlessly throughout the shops of Sunshine Plaza and Chinatown, the days when I play arcade games with them and when we dance Hare Hare Yukai together.
Of all the drugs I've taken, this is the most addictive and even as I type this post, the withdrawal effects have taken effect.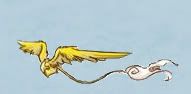 Existing the story...