Tuesday, 23 October 2007
Second day of school, assignment is handed down.
My com skills class this year is a mixture of my course BMS and ChE year 3. The lecturer is very approchable and frank.
This very firset lesson, she straight away talked about interview dress code.
Guys - cream shirt and pants, look like from hua chong. Brown, like from NY. Black and white combo is very "old". Purplish-blue look good, maroon also but not purple and pink. LOL
This sem, it's all about cover letters, resume(pardon me if I spelled it wrongly) and interview skills.
Tomorrow will be from 9am to 1pm. Sigh...
It seems like I can't hold the Hare Hare Yukai dance sessions anymore as all the different timetables clashes with each other. I may have to sacrifice one person to conduct it during saturdays, which is not what I wanted. Fun things must be shared with friends whom have the common interest.
Well, some of my friends will hear/heard me say "moe".
Pardon me if you hear that as I'm walking on the path towards being a 1/2 otaku in the near future.
In the realm of otakus, the term "moe" is crudly translated into "turning on" or passionate interest.
If you're drawn to the emotionless Nagato Yuki showing emotions, that's moe for you. XD

Moe Banzai!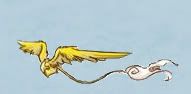 Existing the story...