Monday, 1 October 2007
Rights, I'm back from work. XD
Never in my life would I imagine that the company that I was working for is Wyeth.
For those who didn't know who Wyeth is, it's a comapny that produces children medical products from milk powder to vaccines.
Me as the Pneumo-Bear. Looks more like a mouse than a bear as the body area is too tall or the head is too small. Ps - Bear-bear had drank Red-Bull, it has wings!!!!!
Another mascot, the Smoo Cow from Marigold Smoo Milk
I saw this cool looking 1.8 tall X10A-FREEDOM Gundam in Toys'R'Us Vivo, took some shots of it.
One thing's missing!!!! Where's the Pulse-beam Rifle?????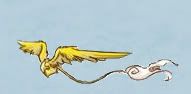 Existing the story...