Tuesday, 30 October 2007
One week of school had gone passed.
I finally start to recover from my school days blues.
Last saturday, JCG had our own Horror Night as an advance celebration for Halloween which is technically tomorrow.
It was fun, dressing up as a one-eyed zombie, with chains dangling from the empty eye socket.
Kinda like a mini cosplay.
The next one shall be on CCN day, where I am going to cosplay for the JCG booth and as a dry-run for my EOY costume.
Currently, Im taking principles of retail management for my elective. AS OWNS Business!!!!
All the questions that the lecturer ask were answered by AS students, including me. XD
Oh yar, I was lucky last friday. I went to play gachapon and I got my second Air Gear figurine, Akito in wedding dress. Now I got both Agito & Akito. Yata!!!!!!
Sadly my luck seems to diminish when I bought the Lucky Star figurine box, hoping to get Konata or Miyuki. Instead, I got the blur and forgetful Tsukasa. However, the details are good and there seems to have no painting mishap.
I still want Nagao Yuki!!!!!!!!!!!! >.<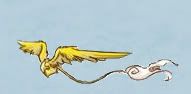 Existing the story...