Sunday, 7 October 2007
Moe!!!!!!!!!!
I can't wait for the cutest MMORPG to be release by Team GE, yes they're the ones who brought Granado Espada to Singapore.
This new game is currently found on Korean, Japanese and Thai Servers.
Emil Chronicles Online it is. XD
There are three race and many classes.
Emil - Human looking, has the highest vitality ratings. Hmmm maybe reference to the Human's "Never Say Die" attitude.
Titania - Angel looking, has the highest intelligence ratings. Mages-to-be, I'm spectulating this class to be popular choice for mages and summoners.
Dominion - Incubus & Succubus looking, has the highest strength ratings. Swordsman? Assassins maybe?
This game owns Maple. All hands down......Maple only rox when it was the beta testing period.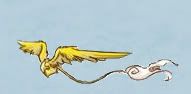 Existing the story...