Saturday, 6 October 2007
Minasan, Konnichiwa
Genki desu ka? Boku wa genki desu.
I've just finish watching Clannad TV series.
Seriously, it has a Kanon X Air feeling. I like the humor though, very funny. However the best humor series is still Suzumiya Haruhi-sama.
Here's the link to the anime at crunchyroll.
http://www.crunchyroll.com/showmedia?id=173155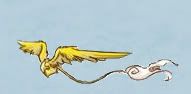 Existing the story...