Thursday, 18 October 2007
It's nearly a week since I last posted anything.
I've just checked my timetable for the new semester and it rocks. No more 8am lectures except on fridays, no more waking up 1 1/2 hours after the first breakfast of Mac.
Bad news is that school starts next week when I thought that I have one more week of slacking.
Sigh.....
I'll have to re-tune my sleeping timeframe and duration as lately I've been gaming to the hour of the first Mac breakfast and waking up when my alarm clock reads half past 13th hour. XD
Right now, there is this guilt feeling in me which is threathening to lyse my biological vessel. I had done nothing for the past two months except for a two days job which bagged me a net gain of $150 a day.
The rest of the time were used for roaming the streets in search for muskets, colour wax/blonde wig, slacking at home, gaming, crapping with friends in drawing sessions, KFC dinners and Hare Hare Yukai dance practices(I still screw up the second part of the routine and I'm too fast at most of the time (///.///) ). Oh, not to mention travelling and shopping for anime merchandises and firgurines.
Now, like many out there(Positive about it), I'm suffering from School day Blues.......
To make it worst, it's pouring cats and dogs outside.....................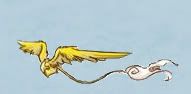 Existing the story...