Friday, 5 October 2007
Below is the advertisment for the up-coming PSP game of "Suzumiya Haruhi no Yakusoku!" or The Promise of Suzumiya Haurhi.
I reckon it's a graphic novel based on the forth novel of the SOS series. If you listen carefully, Haruhi mentioned that there are multiple endings. I guess this must be the trademark of all graphic novel games, having multiple endings.
Haruhi X Kyon
Yuki X Kyon
Mikuru X Kyon
KYON YOU CHEAP B*****D
LOL, joking joking
Poor Itsuki
Official Link -
http://b.bngi-channel.jp/psp-haruhi/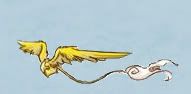 Existing the story...