Friday, 12 October 2007
Behold! The might of the Autobots has invaded our daily lives.
What seems to be a normal Nike Free shoe actually transforms into a gun wielding robot that vowed to destroy his opponents using his shoe-lace ultimate attack.
Next we have the Ipod speakers that morphs into a sound blasting bot which ultilise his audio cannon to blast and objects, from dust to dust...
Want one yourself, they are a hefty $160SGD EACH!
Save up kids......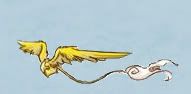 Existing the story...