Wednesday, 12 September 2007
Yata!!!!!!
Finally, after 9 months of waiting, it finally came.
BLEACH - Memories of Nobody is on Crunchyroll.
The movie focus on a girl who has shinigami powers, yet she wasn't meant to be alive. The girl is infact a collection of memories of the souls of the dead.
The ending is some what sad yet soothing at the same time.
View it via this link. A must watch even for Non-Bleach fans.
http://www.crunchyroll.com/showmedia?id=156147
Next is Lucky Star Eps 22.
Near the ending, Konata asked her father what made her late mother fall for him. At the same time, her mother, Kanata's spirit returned to the house for a breif moment.
The scene was filled with warmth instead of the normal mindless humour and it made me felt like I'm not watch Lucky Star.
A must watch for non-otakus..
http://www.crunchyroll.com/showmedia?id=149035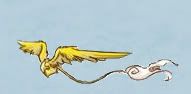 Existing the story...